Welcome to the hempest handcrafted soap company.

We will be closed for the winter months,, we apologize for any inconvienence
this may cause. If you are in need of our products you may contact our
distributor listed below. You can not order any products from this web site as they will not be processed. Thank you for your understanding

please do not confuse us with the retail store in Boston MA (named Hempest),, we are "The Hempest" located in Canada

About "The Hempest"... We produce the finest in handmade bath and skin care products, using quality hemp seed oil in our hemp soaps,hemp lotions, hemp lip balms, hemp cream, hemp cleansers, hemp gels, hemp massage oils and of course our hemp baby products. Sorry but we do not manufactuer or sell hemp clothing.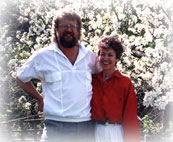 Who are we? "We" are Koreann McCready, the creator & producer of our quality products and packaging. Koreann's husband and partner, Bob Kurulok, picks up supplies, delivers orders and completes other tasks on his "to do" list!
We are a small home-based business located alongside a babbling brook in the small West Kootenay city of Trail, BC Canada. We create and hand mix all of our products, and test them on friends and family before they go on the market.